EMERGENCY CRANK WEATHER ALERT RADIO / PHONE CHARGER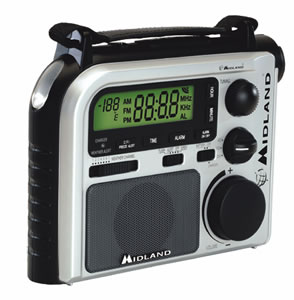 The Midland Emergency Crank Weather Radio is a comprehensive NWS weather-alert system with stand-alone power for emergencies! Powered by either the included AC adapter or the dynamo hand crank, It features 7 weather channels, digital AM and FM radio, USB connector for recharging cell phones and other devices, PLL drift-free reception, clock with alarm, backlit LCD screen, all hazards weather alert, and freeze alert. Uses 3 AA batteries (not included). Dimensions: 2.5inch x 6.5inch x 9.8inch.Manufacturer model #: ER102. Comprehensive NWS weather-alert system. Powered by AC adapter, AA batteries, or dynamo hand crank. Digital AM and FM radio, USB connector for recharging cell phones, PLL drift-free reception, Clock with alarm, Backlit LCD screen, All hazards weather alert, Thermometer with freeze alert.
Midland Emergency Crank Weather Radio
BASS PRO SHOPS SOLAR GENERATOR
Power lights, tools, refrigerators, freezers and health care equipment. Silent, no noise or fumes. Safe to operate indoors. Power source options: sun, wall, or car. Multiple ports (DC, USB and AC). Goal Zeros Yeti 1250 Generator is powerful enough to back-up critical appliances, refrigerators and freezers, as well as home health care equipment such as heart monitors, oxygen and CPAP machines. The Yeti powers a refrigerator for 12+ hours, a chest freezer for a week, a TV for 35 hours.Power is generated silently and cleanly from the sun with GOAL ZEROs Boulder 30 solar panels (sold separately), or the wall (AC charger included), so the Yeti may be safely operated indoors - in your home, cabin or tent. The Yeti may be easily moved from room to room using its roll cart, eliminating the need for long extension cords. Multiple ports (AC, DC and USB) make it easy to power all your devices.
GOAL ZERO Yeti 1250 Solar Generator Kit
SOLAR GENERATOR
Use GOAL ZERO's Yeti 400 Solar Generator with USB-powered devices such as tablets, laptops, and TVs. This quiet portable power is ideal for base camp, cabins, or even unexpected power outages. The Yeti 400 Solar Generator allows you to live off-the-grid, camp in luxury, or power through a power outage without the noise and fumes of traditional back-up generators. Best used with larger-size devices, the Yeti 400 may be used 3 ways: Recharge from the wall outlet in about 5 hours; recharge from you car in about 13 hours; or plug into a solar panel, such as the Nomad 27 (sold separately). Includes a 4.7mm to 8mm adapter. Powers laptops, lights and smartphones anywhere. Easy to carry with pop-up handle. Recharge from the wall, car or sun.
GOAL ZERO Yeti 400 Solar Generator
SOLAR / CRANK WEATHER ALERT RADIO
Stay on top of emergencies with the Oregon Scientific Multi-Powered Emergency Radio. This portable weather radio features weather band channels that get weather or civil emergency warnings from the National Weather Service and other agencies, as well as an NOAA weather radio alert function, an emergency siren, a digital AM/FM radio, and a digital alarm clock. Features a hand crank and solar panel for supplemental charging. Manufacturer model #: WR202.24/7 emergency updates in your area from the National Weather Service and other agencies. Digital AM/FM radio. Hand crank and solar panel for supplemental charging. USB cell phone charging panelLED flashlight with beacon setting. Emergency sirenDigital alarm clock.
Oregon Scientific Multi-Powered Emergency Radio
GOGREENSOLAR SOLAR CHARGER
The Voltaic 1018 Amp Solar Charger is the most compact solar charger yet. the Amp Solar Charger fits easily in any bag, but don't be fooled by its size. With four times the power and twice the battery storage of most solar chargers in the market, your phone need never be flat again. Charges phones, cameras, and more.
4 Watts of Solar Power: 1 hour in sun = 3 hours talk time.
Battery: Up to 19 hours talk time or 48 hours music playback.
Solar Charger Specifications:
Two 2.0 Watt Solar Panels generate power in sunlight. They are waterproof, lightweight and built to withstand abuse. Power: 4 Watts total peak output at 6 or 12 Volts (selectable depending on charging application) Charge times: 4-5 hours in the sun will fully charge a typical phone, 1 hour will provide about 3 hours of talk time.
Universal USB Battery stores power for use anytime and is specially designed to charge efficiently from solar. When not in the sun, the battery can be charged using the USB Power Cable or optional AC travel charger or DC car charger making it just as useful on the grid as off
Charge times: Battery will be fully charged from 7 hours of direct sun, 5.5 hours from USB port on laptop or optional DC or AC
Capacity: 3,000mAh, 11 Watt hour capacity
Output: 5.5V, 600mA via USB port
Input: 4.8-12V, 650 mA
Connect to Devices via the USB Port or 9 standard adapters
Voltaic 1018 Amp Solar Charger
LONG-RANGE WALKIE TALKIE SET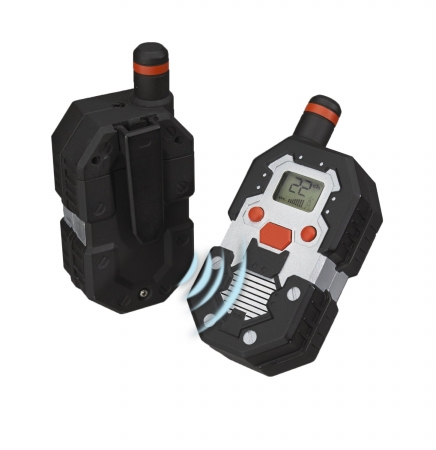 Talk to others over 3 KM away! Features: 2 PMS/FRS Walkie Talkies - 22 Channels - Auto scan feature - Digital LCD readout.
Dimensions:
Length: 8
Height: 10
Width: 1.88
MukikiM LLC 10521 New Long Range Walkie talkie
35-MILE WALKIE TALKIE SET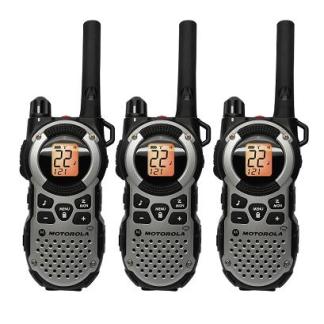 The Motorola Talkabout series is the recommended choice when it comes to battery life performance. It has up to twice the amount of battery life than compared to the standard NiMH rechargeable battery pack. With a range of up to 35 miles, it's perfect for active outdoor excursions or lifes every day adventures. Take a pair on your next hunting camping or hiking trip and stay connected in any season.

- Enjoy hours of uninterrupted outdoor activities. The MT series provide maximum battery life in a small package and is designed to withstand hours of extended usage providing users with up to 15 hrs of talk time.
- With an IP-54 rating the MT series flaunts its weatherproof ID design making it ideal for protection not only from dust but from wet weather conditions be it snow or rain splashes. Its emergency alert feature built-in LED flashlight and NOAA weather alert channels provide a total emergency preparedness communication solution.
- Boasting a high efficiency class D amplifier the MT series radio delivers enhanced sound quality by reducing distortion at high volumes.
- Push-To-Talk Power Boost when activated allows you to extend the transmission range by increasing the transmitter power output while saving battery life when no power boost is necessary.
- When you are hiking up a steep mountain trail you really need to keep your hands free to brace the rocky terrain. With iVOX acting like a speakerphone and allowing hands-free communication you can keep on moving without stopping to answer a call.
- Designed to fit every lifestyle the Motorola Walkie Talkie allows you the convenience of charging many distinct ways. Use the provided mini-USB charger for portable convenience great for charging at home or to take along to recharge in a hotel. While on the go you can use our mini-USB car charger. If you are not on the move the desktop charger is a good option.
Motorola Walkie Talkie 35 Mile Range 2 Way - 3 Pack - MT352TPR