BASS PRO SHOPS 9-HOUR EMERGENCY CANDLES
For use in RedHead Candle Lantern, UCO Original and Candlelier LanternsColor: White Weight: 5 oz. 3-pack UCO has spent countless hours developing their special candles. Wax formula, wick size and other features were specially engineered to make these the ideal candles for UCO Original and Candlelier lanterns. Other candles ''melt down'' prematurely and leave more soot on the heat shield than UCOs 9-hour candles. Made in USA. RedHead Candle Lantern sold separately and can be found through item search at item number 38-634-066-00
UCO 9-Hour Candle
BASS PRO SHOPS DUEL FUEL LANTERN
Electronic ignition Burns white gas or unleaded gasoline Bright single mantle - clip on Globe guard cage Thumb pressure button prevents over pressurizing pumping mechanismBattery-powered electronic ignitor makes matches a thing of the past, and the tubular single mantle clips on with no tying and provides 20% more light. Globe guard cage protects from breakage. The pumping mechanism has been improved on the Dual Fuel lantern with a non-leaking valve and a thumb pressure button to prevent over pressurizing. Operates on white gas or unleaded gasoline. Fuel capacity: 2 pints. Weight: 4.98 lbs. 15.95inch x 7.81inch x 7.25inch. Made in USA.
Coleman NorthStar Dual Fuel Lantern
BASS PRO SHOPS LED LANTERN
24 white LEDs for brilliant, intense light190 lumens of total light Four removable sections powered by NiMH rechargeable batteriesBase powered by 8 D-cell batteries - charges removable sections when dockedRun time: 75 hours Enjoy bright LED light at the tent or around the campground with the ColemanĀ® LED Quad Lantern. This innovative and versatile light provides you with the brilliant, intense light of 24 white LEDs for the campsite or tent. These powerful 5mm LEDs are distributed between four removable sections powered by NiMH rechargeable batteries, giving up to four people the option of removing a section to walk around camp without taking the entire lantern. All together, this lantern provides up to 190 lumens of light, delivering a light range of up to 26 feet. Base powered by 8 D-cell batteries, which recharge removable sections when they are docked to base. Lantern runs up to 75 hours. Lantern weight (without batteries): 98.4 oz. Manufacturer's limited 5 year warranty. Manufacturer model : 2000001150. There's a reason Coleman uses the image of a lantern in its logo. A leader in the lantern industry since its start in the early 1900s with a portable table lamp and gas lantern, Coleman continues today to lead the way in lantern innovations and provide the best in portable lanterns. Whatever your needs and preferences, Coleman has a lantern for you. Work or camping, battery or fuel, dual fuel or propane, pocket-sized electronic LED or full size mantle lantern, nearly 100 years of experience and innovation shines in every lantern Coleman makes. Coleman LED Quad Lantern
Coleman LED Quad Lantern
BASS PRO SHOPS PROPANE HEATER
Two heat settings: 6,000 & 12,000 BTU per hourQuiet electronic ignitionRuns off of one 1lb. disposable propane cylinder (not included)Heavy duty burner guardLow-oxygen (ODS) and tip-over safety shut-off systemsStorage compartment for extra 1lb. propane cylinderStorage compartment for gloves or other accessoriesCamouflage designThe Mr. Heater Hunting Buddy Propane Heater is a convenient portable heater designed with hunters in mind, with a camo design and quiet electronic ignition for stealthy use in the early morning hours. Its great for tents, campers, hunting blinds, cabins, garages, ice fishing shelters, workshops, garages, and much more. The Hunting Buddy has 2 heat settings: 6,000 and 12,000 BTUs per hour. The unit runs off of a single 1 lb. disposable propane cylinder (not included). Store an extra 1 lb. propane cylinder in the included storage compartment. Another storage compartment allows you to store a pair of gloves or other small accessories. Includes a low-oxygen and tip-over safety shut-off system. Features a heavy duty burner guard for added safety. Manufacturer model #: MH12B.
Mr. Heater Hunting Buddy Propane Heater
UNBEATABLE SALE PROPANE HEATER
GasFired Products Inc. currently manufactures a wide variety of gasfired heating products from its facilities in both the U.S. and Europe. The products include infrared gas space heating equipment for the industrial and commercial market poultry heating and tobacco curing systems for the agricultural market and ventfree gas room heaters for the residential market. At GFP the goal is to design and manufacture safety certified reliable and energy efficient gas heating products that will stand the test of time. Thermostat control operation. Ideal for areas up to 900 square feet. The 99 percent heating efficient designs require no outside venting so all the heat stays in the room. A dual purpose safety pilot system protects against oxygen depletion and any interruption in the fuel supply. Provides heat during power outages. No electricity required making them ideal as back up emergency heat. Easy to use top mounted controls with push button ignition decorative safety grill. Floor base included. High heat 30 000 BTU s NG.
Mr Heater F273900-F242900 3 Tank Top Propane Heater 8-42
UNBEATABLE SALE CRANK FLASHLIGHT
Night light for emergencies? Maximo Concepts has you covered with the crank flashlight. Just 2 minutes of cranking gives you up to an hour of flashlight time. The 3 Led lights are ultrabright and there are also 2 flashing reflectors so you can always see when the power goes out. Features:. Dimensions: 9.75 L x 3.5 W x 2.25 H. Wind up to 2 min amp; it will work for 1 hour. 3 ultrabright Leds. 2 flashing reflectors.
MAXIMO CONCEPTS MAX33722 EMERGENCY CRANK FLASHLIGHT
UNBEATABLE SALE SOLAR / CRANK FLASHLIGHT / RADIO / Universal Adapter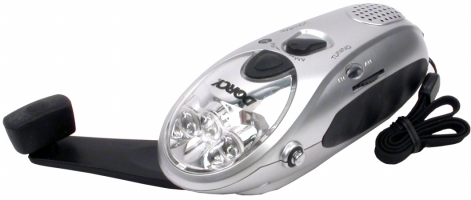 converts sun light to electric power or use the crank operated dynamo to charge the ni-cad batteries and power the am-fm radio, big head lantern, multi-color emergency flasher and siren. it provides insurance against the inevitable sporadic power failure.
Dorcy International 3 LED Dynamo Flashlight With Radio & DC Universal Adapter 4