MEDEX SUPPLY QUIKCLOT GAUZE
Features of the Performance Systems QuikClot Combat Gauze: QuikClot® Combat Gauze™ provides the ultimate in stopping power for traumatic wounds; requiring no mixing, measuring or heat - just open and apply. Easy to pack, it stays cool under pressure and remains ultra flexible while conforming to any shape or size wound, and removes easily without effect. As the CoTCCC's #1 choice for first line treatment for life-threatening hemorrage; QuikClot® Combat Gauze™ is the essential item in every military and medical kit.
Performance Systems QuikClot Combat Gauze, 3" W x 4 Yards
QUIKCLOT SPONGE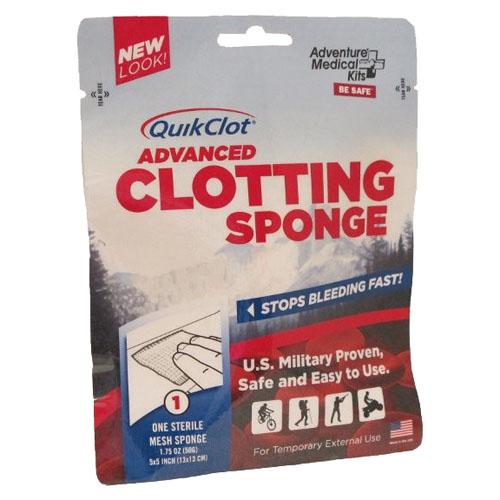 QuikClot Advanced Clotting Sponge - 50g
Manufacture ID: 5020-0018
Adventure Medical QuikClot Sport Advanced Clotting Sponge 50g (5020-001)
QuikClot Sport Advanced Clotting Sponge - 50g is made using a chemically inert material that has been deigned to speed coagulation of blood resulting inimage a stable clot that helps stop bleeding. This First Aid Sponge from QuikClot uses QuikClot Sport Zeolite Beads that are contained in a sterile non-adherent mesh bag so that it can be easily applied and also easily and cleanly removed from the wound by professional medical providers.
QuikClot Sport Advanced Clotting Sponges are safe to use and have a low heat formula that will not burn the skin. Leave QuikClot in place until more advanced medical help arrives. Each package contains one 3.5 x 3.5 (50g) bag of the QuikClot Sport 50g Advanced Clotting Sponge.
Adventure Medical 5020-0018 QuikClot Advanced Clotting Sponge - 50g
FIRST-AID & SURVIVAL KIT

Basic Survival Components in a Soft Pack Bag.

First Aid supplies are combined with basic survival components in this truly comprehensive kit. Features over 160 items of remarkable quality. Items have been thoughtfully chosen and arranged in a durable, ballistic nylon carry case.

Includes unique items such as: high-quality 3M® bandages, dressing, and tape; items for injury treatment including an instant cold compress; lip ointment, sun block, and burn relief packs; a variety of medications; antiseptics and cleansing pads; stainless steel tweezers and scissors; and more.
Professional First-Aid & Survival Kit
INSTANT COLD PACK
This fast-acting, cold compress is ideal for first-aid and sports injuries. Recommended to help relieve pain, reduce swelling, and speed recovery from: minor bumps, cuts, scrapes and bruises; muscle aches, strains, and sprains; headaches and toothaches; minor burns and insect bites. Convenient and ready whenever. Single use compress needs no refrigeration and activates instantly. Measures 6 in x 9 in (15.2 cm x 22.9 cm).
Mueller Kold Instant Cold Pack
U.S. ARMY FIRST AID MANUAL
U.S. Army First Aid Manual
UNBEATABLE SALE PROFESSIONAL RESPONSE FIRST AID KIT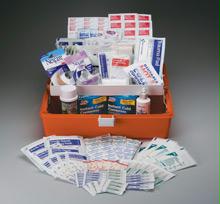 Our most comprehensive kit. All components are of the highest possible quality and chosen specifically to keep you prepared for unexpected first aid emergencies. Components are arranged in three compartmental trays to keep supplies easily accessible.Kit Includes:(25) 3/4"x3"Adhesive plastic bandages(30) 1"x3"Fabric bandages(2) Knuckle fabric bandages(2) Large fingertip fabric bandages(4) 2"x4"Elbow knee plastic bandages(10) 3/8"x11/2"Junior plastic bandages(5) 11/2"x11/2"Patch plastic bandages(4) Medium butterfly wound closures(4) Large butterfly wound closures(6) 3M 23/8"x4"Waterproof knee elbow bandages(10) 3M 11/16"x21/4"Waterproof bandages(3) 2"x3"Nonstick pads(3) 3"x4"Nonstick pads(8) 2"x2"Gauze dressing pads(4) 3"x3"Gauze dressing pads(4) 4"x4"Gauze dressing pads(4) 3M Tegaderm transparent dressings(1) 3M Tegaderm transparent dressing instructions(4) 5"x9"Trauma pads(2) 2"Conforming gauze roll bandages(2) 3"Conforming gauze roll bandages(2) 36"Triangular sling/bandage w/2 safety pins(4) Aspirin tablets(4) Ibuprofen tablets(8) Extrastrength nonaspirin tablets(4) Antacid tablets(4) Antihistamine tablets(24) Alcohol cleansing pads(18) Antiseptic cleansing wipes (sting free)(3) Castile soap towelettes(1) Triple antibiotic ointment 1/2 oz.(2) Burn relief packs 3.5 gm.(9) Insect sting relief pads(6) Povidoneiodine infection control wipes(1) Antiseptic spray 3 oz. aerosol(1) 3"x5 yd. Elastic bandage wrap w/2 fasteners latex free(1) 3M 3/4"x7 yd. Clear first aid tape roll(1) 3M 1"x15 yd. Waterproof first aid tape roll(2) 6"x9"Instant cold compresses(1) 4"x6"Hot/cold reusable compress(2) Sterile eye pads(1) Eye wash 4 oz.(1) CPR oneway valve faceshield latex free(1) 52"x84"Emergency blanket(3) 6"x11/16"Finger splints(2) Medium #2 safety pins(6) 3"Cotton tipped applicators
260 Piece Response Kit with Professional Grade Plastic Case