NO-RINSE BODY BATH
Feel Clean and Refreshed in Minutes.
Leaves skin clean, refreshed and odor-free.
Concentrated, makes 16 complete baths.
Absolutely no rinsing necessary.
Contains no alcohol - Means no dryness.
Gentle on sensitive skin.
Use full strength as a liquid soap.
Fast, Easy and Convenient Alternative to Traditional Bathing.
Used by NASA astronauts on all space shuttle flights.
No-Rinse Body Bath
DISPOSABLE NO-RINSE WASHCLOTHS
The Comfort Bath Cleansing System can keep your entire body feeling fresh and clean even in trying times. These disposable washcloths are thick, gentle, and require no rinsing. They contain aloe and vitamin E to moisturize your skin, leaving it smooth and soft. The washcloths can even be warmed in the microwave ... comforting your body when it needs it most. Great for camping, car, or any emergency.
Comfort Bath Disposable No-Rinse Washcloths
BASS PRO SHOPS HOT WATER SHOWER
Hot showers anywhere you can find water Single propane burner with push button ignition 6-volt water pump 4-gallon reservoir that doubles as water storage container 8-foot shower hose with water saver shower head Enjoy endless hot showers! The Hot Tap Travel Shower quickly heats available water 25° to 30° per cycle for hot showers anywhere you can find water. Just place the system's 6-volt pump in a lake or other water source, ignite the propane burner with its convenient push button ignition and enjoy this on-demand self-contained shower system. The Hot Tap system includes a 6-volt water pump, battery case, propane burner, 4-gallon reservoir and water storage container, 4-foot input hose, and 8-foot shower hose with water-saver shower head. Uses 4 D batteries (not included). Propane cylinder not included. Zodi Outback Gear Hot Tap Travel Shower™ - Model 6185
Zodi Outback Gear Hot Tap Travel Shower
SHOWER TENT / SHOWER TENT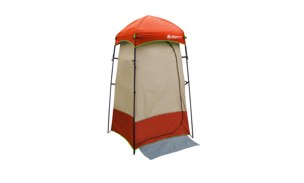 The Stinky Pete Deluxe changing room tent from Gigatent works as a shower, toilet enclosure or as a portable changing room. A self-draining floor allows water to run off and a mesh ceiling provides maximum air flow. There is a large window in the back wall for added air ventilation. Equipped with 2 large interior pockets, great for storing bathing products! The unit is also fitted with an interior adjustable nylon strap for hanging towels or clothing! The large D door provides easy access. Steel poles provide straight walls and plenty of headroom. A rain fly on top keeps the inside protected and provides privacy. A large hook is sewn to the top to hang up to a 3 gallon shower. Everything is included for use right out of the bag including a heavy duty duffel style carry bag and separate pole and stake bags. Extra stakes and guy lines are included for more stability in windy conditions.
Features:
• Dimensions - 4 x 4 ft.
• Poles - 4
• Pole Material - 95 m &steel pole 19mm
• Floor Material - Polyethylene
• Wall Material - Polyester 450mm
• Netting Material - 68D no-see-um mesh
• Fly Material - Polyester 450mm
Use as a shower room, outdoor toilet, changing room, hunting blind, or privacy shelter. KWIK Silver mechanism and unique frame that sets up in 5 seconds. Just pull 2 ropes and the tent just pops right out instantly. It can also be taken down in just a few seconds. Dome cover and mesh roof panel and 3 windows for air ventilation. Privacy window flaps inside storage pocket and carrying bag (7 x 7 x 28.5 packed). Four stakes for anchoring or four weight pockets if stakes are not used. Six center height 4 x 4 square foot floor space.
GigaTent ST 001D Stinky Pete Deluxe Shower and Changing Tent
BASS PRO SHOPS FOLDING TOILET (AND BAGS)
Folds flat Weight: 4 lbs.Includes 6 toilet bags Replacement bags -- 12 per pack Heavy-duty tubular steel legs with a durable, white plastic seat and a removable plastic ring that secures toilet bags. Can purchase replacement toilet bags -- 12 per pack. Bags are polyvinyl chloride (PVC) construction. Weight: 4 lbs. Weight capacity: 225 lbs. Height: 16''.
Texsport Portable Folding Toilet or Toilet Bags
PORTABLE TOILET WITH LID
Seat and lid snap onto a 5-gallon bucket Diameter: 13" Toilet seat and lid easily snaps onto almost any 5-gallon bucket (not included). 13" diameter. Color may vary (sorry, no choice). Imported. Luggable Loo Seat and Cover.
Luggable Loo Seat and Cover
BASS PRO SHOPS HASSOCK / STOOL TOILET
Rugged construction Comfortable seat Splash cover Removable inner bucket Rugged molded toilet with a comfortable seat and splash cover. Removable inner bucket plus septic blue chemical sample. Doubles as a portable stool. 14'' dia. 13-1/2'' tall. Holds 3 gallons.
Hassock Toilet
BASS PRO SHOPS ODOR CONTROL
100% Bio-degradableLong-lasting odor control. Handy pre-measured pouches3-2 oz. pouches The Domestic Granulated Holding Tank Treatment provides long-lasting odor control for your RV, marine, or camping holding tank. These handy pre-measured pouches are very quick, easy, and convenient, making odor a thing of the past. The formula is 100% bio-degradable for an eco-friendly solution to odor. Comes in 3-2 oz. packages. Made in USA.Manufacturer model #: 379700066.
Dometic Granulated Holding Tank Treatment