UNBEATABLE SALE FULL FACE RESPIRATOR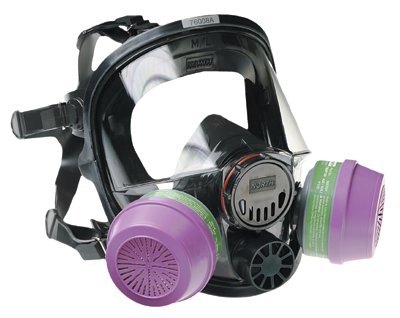 Designed to provide eye face and respiratory protection while ensuring optimal comfort and performance.
Its dual flange silicone seal gives this facepiece superior fitting characteristics.
Lens provides over 200 degree field of vision provides excellent optics is scratch resistant and meets ANSI standards for impact and penetration resistance
North Safety 068-760008A Medium-Large Full Face Silicone Respirator
FULL FACE RESPIRATOR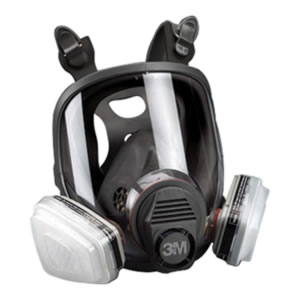 Full facepiece respirators may be used up to 50 OSHA PEL or applicable government standard whatever us lower. If exposure levels are not known, a fresh air system is recommended.
3M recommended for spray painting laquer enamel and pesticides.
Reuseable design - changeable filters and cartridges
Affords eye and respiratory protection
Includes: 1 reuseable facepiece 2 organic vapor cartridges 4 P95 filters 2 filter retainers and 2 face sheild covers.
3M Automotive Products 3M 7162 Full-Facepiece Spray Paint Respirator- Organic Vapor
OPTI-FIT FULL-FACE RESPIRATOR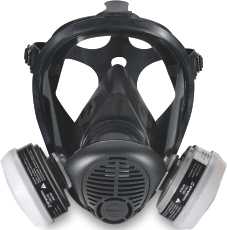 Sperian - Survivair Opti-Fit Full Face Respirator complete with OV cartridges (organic vapor) and N95 Filters. * Wide viewing area offering distortion free visibility and optical clarity. * Nose cup prevents fogging. Molded in speaking diaphragm provides improved audio transmission for communication. Straps are attached to the rim of facepiece reducing pressure points and distortion of the sealing surface when tightened. Optimum fit comfort and superior optics. Size Medium.
Sperian Protection Americas 294311 Opti-Fit Fullface Respirator
UNBEATABLE SALE HALF MASK RESPIRATOR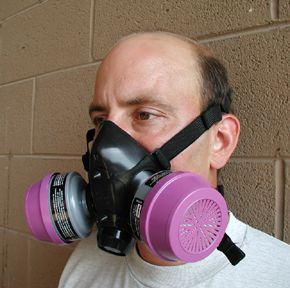 This North Half-Mask Respirator features a silicone seal which seals against the skin.
This negative pressure respirator uses HEPA filters.
Be sure to wear protective eyewear.
Be sure to order the Organic Vapor HEPA Cartridges sold separately.
Lindemann 604012 Safety North Half Mask Respirator
UNBEATABLE SALE ANTIVIRAL FACE MASK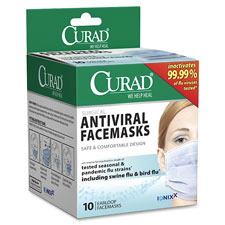 Antiviral medical face masks offer an easy breathing comfortable design for your face along with safe high-barrier protection. Curad BioMask inactivates 99.99 percent of tested influenza viruses within five minutes contact with the surface of the facemask. Tested on specific seasonal flu viruses Pandemic H1N1 Avian Swine and Equine this universal standard flat mask with pleats has a hydrophilic plastic coating that rapidly absorbs aerosol droplets away from the outer surface of the mask. The first and second layers of the mask are treated with different compounds that inactivate influenza viruses. Rapid absorption ensures the influenza A and B viruses are wicked away from the outer surface. In the outer active layer viruses are inactivated by exposure to a low pH environment. BioMask meets ASTM F2100-07 standard: High-Barrier surgical facemask.
Medline MIICUR384S Bio Face Mask Antiviral 10-BX White-Green
UNBEATABLE SALE PARTICLE RESPIRATOR MASK
3M is fundamentally a science-based company. We produce thousands of imaginative products and were a leader in scores of markets - from health care and highway safety to office products and abrasives and adhesives. Our success begins with our ability to apply our technologies - often in combination - to an endless array of real-world customer needs. Of course all of this is made possible by the people of 3M and their singular commitment to make life easier and better for people around the world.
When the job requires work around tiny particles, you and your co-workers will be protected with these lightweight respirators. Adjustable nose clip ensures a more secure seal against the face. At least 95 percent filtration efficiency when subjected to a 0.3 m MMAD Sodium Chloride particle challenge. Suggested for applications such as bagging, sanding and sweeping. Advanced electrostatically charged microfibers help make breathing easier. Respirator Type: Mask; Rating: N95; Resistance: Airborne Germs; Dust; Bodily Fluids; Size: N/A.
3M N95 Particle Respirator 8200 Mask